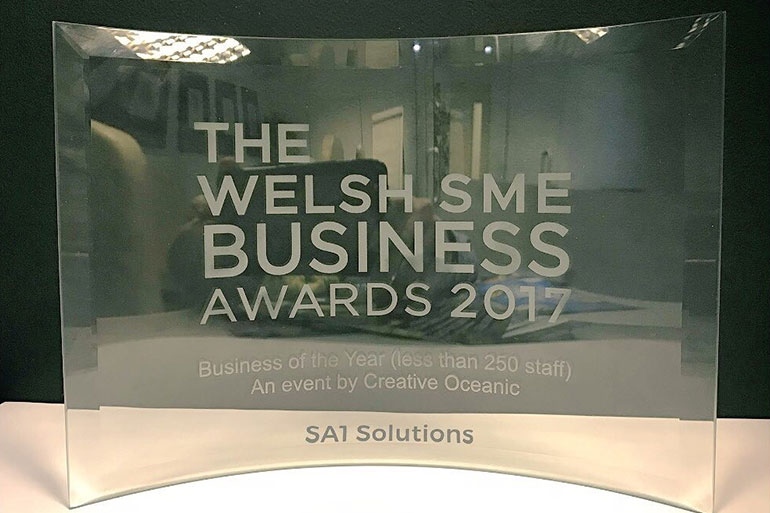 IT services company SA1 Solutions has won an award at the Welsh SME Business Awards 2017, held at Cardiff's Portland House on Thursday 26 October.
The Swansea-based company overcame tough competition from other established SME businesses, walking away with the Business of the Year Award (less than 250 staff).
The Welsh SME Business Awards were held for the first time this year. The event was a celebration in conjunction with the Welsh Independent Retail Awards - enabling a greater reach to various sectors within businesses life - and recognised SME businesses whose leadership is making a real difference in Wales.
SA1 Solutions' founder, Simon Ahearne, founded the business in 2005 and during the 12 years of the company's establishment, its staff-base has increased tenfold. The company is now a leading IT services provider based in Swansea, offering services to over 200 customers across the UK including: website design; supply and installation of hardware; bespoke software development; and a 24/7, 365 days a year monitoring system.
Ahearne commented:
"I am delighted with how much recognition the company has received from the Welsh SME Awards 2017. Acknowledgement needs to be given to the team at SA1 Solutions as without them, we would not be where we are today. They are dedicated, hard-working and willing to go the extra mile to ensure personable relationships with clients, which we consider to be key to our success.
"I feel very proud for the company to receive the Business of the Year Award. It is great that SME businesses in Wales have been given the opportunity to be recognised for their success and dedication at a tailored ceremony. There were so many other SME businesses from the Swansea region at the awards, so to gain this recognition is extremely overwhelming."