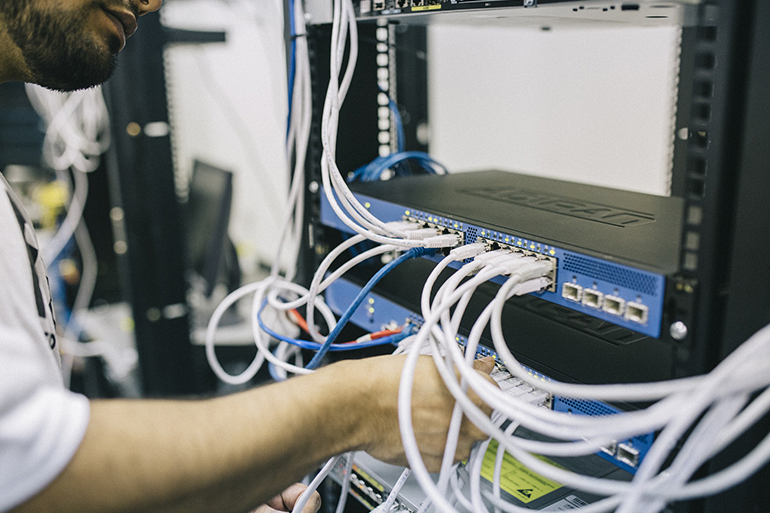 In light of businesses setting budgets for the New Year, we have highlighted the benefits of allocating resources to implement new IT and communications systems. From updating your broadband for efficiency, through to noting the advantages of using cloud-based systems, take a look at how an updated IT system could benefit your business in 2018.
Increase productivity with sufficient broadband:
Without sufficient, fast broadband, a business' productivity can suffer. The most popular options to choose from when changing your broadband system include:
WAN (Wide Area Network): A computer network that extends over a large geographical distance
VPN (Virtual Private Network): A private network that extends across your internet, allowing employees to share data in a secure and reliable environment.
What types of broadband can be used, and what are their benefits?
There are several types of broadband that can be used when updating systems. Popular options include:
Fibre: Fibre uses fibre optic cables to send data, offering a very fast service
FTTC: Fibre to the Cabinet is cheaper and easier to deliver than its counterpart FTTP (Fibre to the Premises)
Leased Line: A leased line is a dedicated connection between your premises and the local exchange point, and has a fixed bandwidth and subscription cost. Leased lines are ideal for businesses that complete data hungry tasks, as they provide the same speeds for upload and download
Fixed Line: A fixed line is one of the more widely available broadband sources and enables an internet connection to be delivered via your phone line. If you already have a phone line into your premises, this could be the cheaper option.
Update your antivirus software for adequate protection:
Antivirus software is a necessary investment, as it protects your business from losing data from corrupted files of hackers. Antivirus is a program that prevents, searches for, detects and removes software viruses and other malicious software like worms, Trojans, adware and more.
Through de-cluttering cached threats, another benefit of antivirus programs is that they can also work to speed up your computer's performance.
As there are numerous types of software, it is important to find the best antivirus software that suits your business' security level needs. Without such software, computers that are connected to the internet without protection can be infected within minutes.
Improve back-up and save costs with cloud-based systems:
The benefits of updating your IT systems to more modernised cloud-based systems are plentiful. Back-up systems enable you to access your business' data anytime anywhere via the internet, through secure data centres. Additionally, cloud computing not only reduces the cost of purchasing and maintaining hardware, with all internet software being over the cloud, security and software updates are easily accessible and usually automatic.
Other benefits include offering a comprehensive disaster recovery solution, increased mobility, improved collaborative working possibilities, and increased storage capacity.
Increased cyber security:
May 2018 will see the introduction of the General Data Protection Regulation (GDPR), aiming to further ensure that the digital marketplace is more secure for consumers. Through updating your IT and communication system's security, you can add additional protections to provide a defensive system, limiting the threat posed by malware and hackers, abiding by the new regulations through ensuring personal data is safeguarded. With information being shared across numerous systems and devices these days, your employees are now able to access and use data in nearly any location. As a result, an up-to-date, tight security system needs to be in place to support such fluidity.
Want to know more? Get in touch with us at SA1 Solutions on 01792 439087 to find out how your business can reap the rewards of updating your IT and communications system.