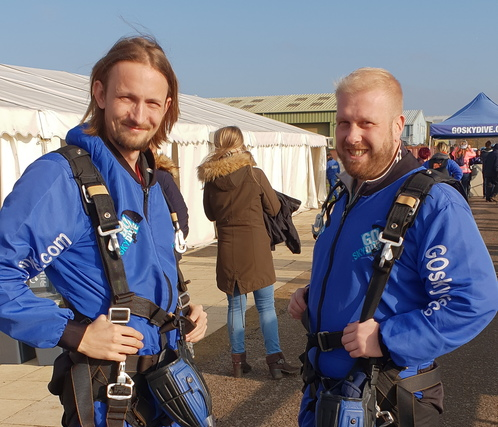 Two IT engineers from a communications firm based in Swansea have recently completed a skydive for a homeless charity to raise money for the support it provides to homeless adults, young people, veterans and those with learning disabilities.
Scott Kinsey and Alex Kamil, senior engineers at SA1 Solutions, completed the jump on Saturday 17 November as part of a group of 100 skydivers to mark 100 years since the end of World War One. The skydive event took place at an original World War One airfield in Salisbury with over £40,000 being raised for Alabaré to support the work it does for veterans.
SA1 Solutions paid over £100 to enable Scott and Alex to join the skydive group. Their participation in the event has meant the IT engineers have been able to raise £575 for Alabaré's Wales Homes for Veterans service.
Alabaré run 24 properties throughout the South West of England and Wales, providing a bed for over 100 veterans every night. Since its first home opened in 2009, Alabaré has grown to become the largest provider of supported accommodation for homeless and vulnerable Veterans of a working age outside of London. In South Wales, the charity provides Homes for Veterans in Carmarthen, Swansea, Cardiff, Pontypridd and Merthyr Tydfil.
Alabaré offers homeless and vulnerable veterans support with financial well-being, education, accommodation, community involvement, and training and employment. It also helps with supporting physical and mental health, overall well-being, and helping service users gain greater independence.
Alex Kamil said:
"To take part in such a wonderful event to commemorate the First World War was incredible. It was a really positive experience meeting all the other skydivers who joined us at the event, with everyone raising money for such an important cause as Alabaré. We are so grateful to everyone for their donations and support, and especially to SA1 Solutions for enabling us to have the experience of jumping out of a plane to support homeless veterans in Wales."
SA1 Solutions is a leading managed service provider based in South Wales, offering services to over 200 customers across the UK.