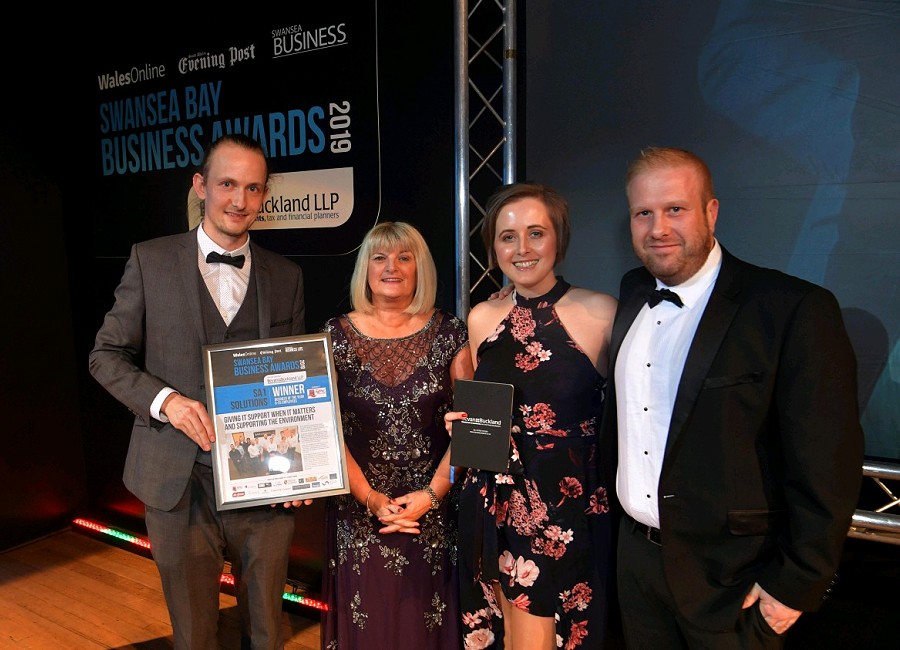 SA1 Solutions has been named business of the year (0-25 employees) at this year's Swansea Bay Business Awards.
The business awards took place on Friday (22 February 2019) and saw nearly 400 guests from Swansea's business community gather at the Brangwyn Hall to celebrate the best in business.
In total, 16 awards were presented to businesses, from start-ups to larger organisations. Frances Donovan presented the event, with Richard Parks, former Welsh rugby international, being guest speaker at the awards.
SA1 Solutions is a leading managed service provider offering services to over 200 customers across the UK. The company experienced significant growth during 2018, with the company already anticipating further growth during 2019 due to securing significant contracts with businesses within the South Wales region. The company recently appointed several new members of staff as a result of its growing success, with further new hires likely this year due to its expected increase in new business contracts.
Simon Ahearne, managing director of SA1 Solutions, said:
"We are delighted to have won the business of the year 0-25 employees award at the 2019 Swansea Bay Business Awards. It was fantastic to be a part of such a thriving event and to be amongst the best businesses in the region as they received well deserved recognition for their success in business and contribution to the region.
"We would not be where we are today without the dedication of our valued staff and drive to consistently provide the highest level of service to our customers across Swansea and further afield. This award is testament to the team's professionalism and I am incredibly thankful to everyone who has supported SA1 Solutions over the years."