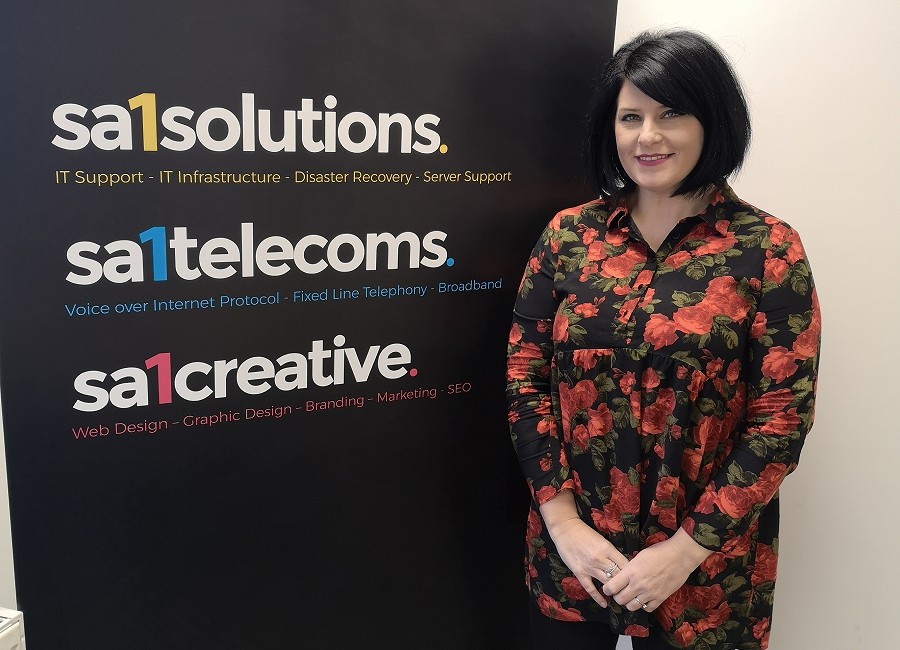 We are so excited to introduce a new member of the SA1 team! Meet Kelly, our new Business Support Manager.
Due to the fast rate at which the company has grown during 2019, our current Business Support Manager, Rhian, was keen for some extra help. She is absolutely delighted that Kelly has joined the team, and is so thankful for her help so far.
To get to know Kelly a bit better, the team decided to do a quirky Q&A-style blog so that our valued customers can familiarise themselves with our new member of staff:
1. What drew you towards the job position of Business Support Manager at SA1 Solutions?
For 20 years I worked for The Travel House - Wales' largest independent travel agency who are a customer of SA1 Solutions.
During that time, I witnessed how SA1 Solutions put their customers at the centre of the business to provide fantastic service, while also helping them to excel in their sector by offering a wide range of IT support. I wanted to be part of this fast-paced, considerate company where each day provides new challenges.
2. What is your favourite thing about your new role as Business Support Manager?
It's hard to say! I think if I have to choose, I'd say the customer-facing aspect. I thoroughly enjoy meeting new and existing clients to provide them with the best options to help support and grow their business.
3. Are you enjoying your new role at SA1 Solutions?
Absolutely! I love my new role, each day offers a new, unique challenge so I'm always learning! My colleagues are absolutely fantastic and have been so welcoming, which has definitely reassured me as leaving a job of 20 years is not an easy thing to do!
4. Have you learned anything new since taking on the role of Business Support Manager?
Definitely, I learn something new every day! Before joining as Business Support Manager, my level of knowledge surrounding IT was limited. Now, I'm not calling myself an expert by any means, but I am far more knowledgeable than I was! There is so much more to IT than simply 'turn it off, then back on again'.
5. Let's learn a little more about you! What are your passions and interests?
Without boring you with a long list of my passions and interests, I'll narrow it down to one – travelling. I love making memories by exploring new countries with my family; those are the moments I truly cherish.
6. Finally, as it's Christmas, what's your favourite festive song and/or film?
That's a tough one! Out of them all, my favourite Christmas song has to be 'Fairytale of New York' and my favourite Christmas film would have to be Home Alone – it's a classic!