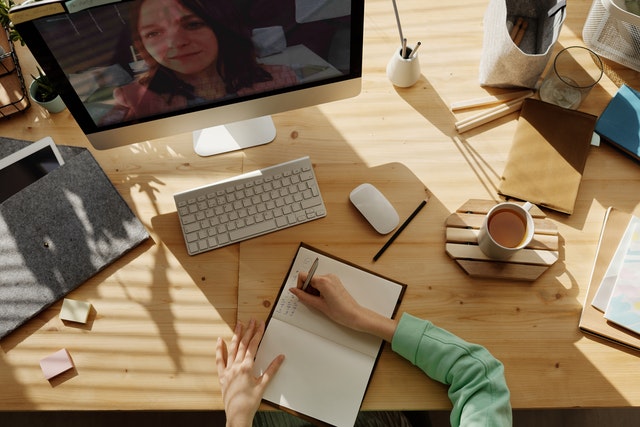 For many businesses, video conferencing is becoming the new normal. This virus pandemic has forced nearly all office workers to home-locate, and in order to keep in touch, video conferencing has taken the place of the usual meeting-room and over-the-desk conversations. Though many people will already be familiar with this technology, there are some who may not have used this software before the government prescribed lockdown. So, we thought we'd give you a few tips on best practice and etiquette for when you next check in.
Before the meeting:
Facilitator and agenda
Like meetings in the 'normal world', it's best to decide upon a meeting facilitator and to set an agenda. The meeting facilitator will be the person who sets up the meeting and sends everybody an invite to it. They should then keep a register of who will be attending to make sure nobody is left out and ensure everyone who should be attending has logged on. By having an agenda, you will be able to stick to what is important and relevant and not get side-tracked on superfluous tangents.
Check equipment
It's good to check your equipment before the meeting is due to commence. It might even be wise to log in several minutes before the start time to make sure everything is working and arrange the setup of some alternative, back-up equipment – just in case.
Ensure access to documents
It will be the job of the meeting facilitator to ensure that everyone attending the video conference has access to any content due to be shared in the meeting. This could include access via a VPN to a shared drive or google docs, or links to relevant online resources.
Non-verbal cues
Finally, decide on some non-verbal cues for when you have something to add to the meeting. There is nothing worse that people cutting across each other, particularly if there is a large number of attendees, so something like raising a hand before speaking should help.
During the meeting
Sound clarity
If you have one available, it's a good idea to use a headset. This will cut down on background noise for your colleagues and will provide much clearer sound, both for you and the other meeting attendees. If you don't have a headset, it's a good idea to mute the sound coming from your microphone when you aren't speaking. Get used to finding out how to do this and it can also save embarrassment from untimely interruptions from children and other members of your household.
Choose your backdrop
Be aware of where you are sitting. Avoid seating yourself with a window backdrop. The light coming from behind you will mean that you are only visible as a harsh silhouette. People are unlikely to be able to see your face clearly and will miss those important visual cues. It's far better to seat yourself with your back to a wall, with a light source coming from in front of the camera.
Record your meeting
Consider recording your meeting. As well as letting you go back over things which may get forgotten, it will also allow people who may have been unable to attend an opportunity to find out later. It should also prevent unneeded deviations from topic and keep things professional.
Etiquette and engagement
General etiquette is very similar to when you attend normal, face-to-face meetings. Try not to cut across people, stick to topic and listen carefully. With video conferencing, however, it's also important that you check that people are still engaged in the call and the line hasn't dropped off – with someone missing a vital piece of information. It's also polite to say hello at the start and goodbye at the end and set a date for when it will be convenient to touch base again.
After the meeting
Log off
Make sure everyone is disconnected – you don't want to say something embarrassing when the microphone is still on!
Review
If you have recorded the meeting, make sure you let everyone know where they can view it again, so that everyone has the same chance to check it back and clear up anything they may have been unsure of in hindsight.
Follow up
Finally, follow up with an email recapping the main outcomes of the meeting and arrange an appropriate time for a follow-up.