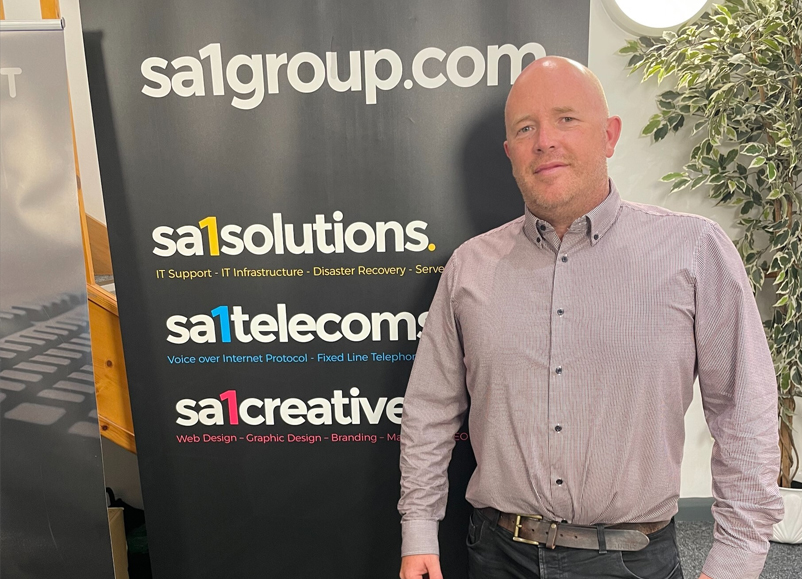 Now that SA1 has a new Sales Manager, we wanted to do a quick Q&A so that our valued customers and followers could get to know him a little better!
Owen recently joined SA1 as our new Sales Manager, he has a strong background in sales and recruitment in the education sector but decided to make the move to IT.
1. Let's give our followers and insight into you, so what is your passions and interests?
Other than my three years away for university, where I studied Accountancy and Finance at University of the West of England, I have lived my whole life in Swansea. I am passionate about sports, particularly local sports, I spend many weekends either playing golf at Langland Bay Golf Club or watching the games at Swansea City AFC. I have been a season ticket holder of the Swans for over 20 years.
2. Going from the education sector to IT must have been a big step, why did you decide to make that change?
Like for many people, Covid provided me with time to really reflect on my career, on what I was doing and where I saw myself going. It made me realise that I wanted to try something new, something that would really challenge me and allow me to push myself. The tech industry has always been a sector that has interested me, and I felt it could provide me with the new career path I was looking for.
3. So why now? And why SA1 Solutions?
I had previously heard of SA1 and had always kept an eye on the organisations growth and reach throughout South Wales. When I saw the position of Sales Manager available it seems like the perfect option. It allowed me to make the transition I was craving in my career; within an organisation I was intrigued by.
4. How have you found that change so far?
I won't lie, it has a been a steep learning curve. It's almost like being back in school but I'm thoroughly enjoying it. SA1 is a great place, its has very close group of individuals who are all dedicated to their work and to their role within SA1. It has been great to learn from them and get submerged in to such a fast paced, dynamic world.
5. What is your plan at SA1? What is your mission?
Even after only a short few months within the company, I can see that SA1 has so much to offer an organisation. Yes, it is already doing that for a lot of customers but there are so many other companies out there along the M4 corridor especially, that could benefit from SA1. SA1 Solutions is part of a group, SA1 Group, this group is a one stop shop for any organisation as it provides IT, communications, web and digital marketing. This message is something I believe I can drive more, drive to new businesses and further drive to our existing customer base.
If you want to speak to Owen, whether that be to discuss new Business or whether you are an existing customer and would just like a catch up please feel free to email him on owen.price@sa1solutions.com or call our office line on 01792 464242.